Verkauft
Type:
Bassgitarre
VR-Category:
Basses > 4 string
Hersteller:
FENDER [Wikipedia]
Modell:
Precision Bass
rare alu guard and slab board
Baujahr:
1959
Zustand:
vg-
Preis:
leider schon verkauft!
Colour:
dakota red ref.
SerialNo:
37xxx
Gewicht:
3,92 [kg]
Made in:
USA


Details:

Fantastic player from the first year with Brazilian rosewood slabboard and clay dots. Body has been refinished long time ago in dakota red, now bleached to fiesta red. Neck complete oversprayed with new decal, neck date is missing.
Original tuners, alu guard and bridge. Pickups have been rewound, pots from 1989, old Sprague capacitor.
Comes with older Fender-style case and CITES.




Bilder in voller Auflösung anzeigen
Die Spitzenreiter
Ähnliche Artikel
Ein gleiches Modell des Herstellers in dieser Preisklasse +/- 50% (also 4825-14475 Euro) und dem Zeitbereich (1953-1965) wurde leider nicht gefunden!

FENDER
Precision Bass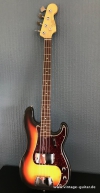 Farbe: sunburst
Zustand: near mint
Baujahr: 1966
Preis: 8900

FENDER
Precision Bass

Farbe: blue
Zustand: exc -
Baujahr: 1993 c.
Preis: 990

FENDER
Precision Bass

Farbe: brown burst
Zustand: near mint
Baujahr: 1981
Preis: 2890
&copy 2021 by vintage-guitar.de | detailsvintage_4400.html |
Impressum
|
AGB
|
Datenschutz