Sorry - already sold
Type:
Amplifier, Combo, Speaker
VR-Category:
Amps > Combo
Manufacturer:
FENDER [Wikipedia]
Model:
Deluxe Amp
rare and great sounding amp
Year:
1963
Condition:
exc
Price:
Sorry - already SOLD!
Colour:
brown tolex
SerialNo:
D011xx
Made in:
USA


Details:

Fender Logo new
Front covering has a little hole under the Fender-Logo
Equipped with 230 volts powertransformer and 70s 12 inch speaker
otherwise original
Sounds amazing!




Show pictures in high resolution
Hint
We sell vintage and used guitars and basses from Fender, Gibson, Gretsch, Rickenbacker, Musicman, Hofner, Framus, Ibanez and much more. Amplifier from Fender, Marshall, Mesa Boogie, Vox, Orange, Hiwatt, Ampeg, Musicman uvm.Vintage books and information. Guitar repairs, bass repair, guitar Service
On top of the list
Similar Items

FENDER
Deluxe Amp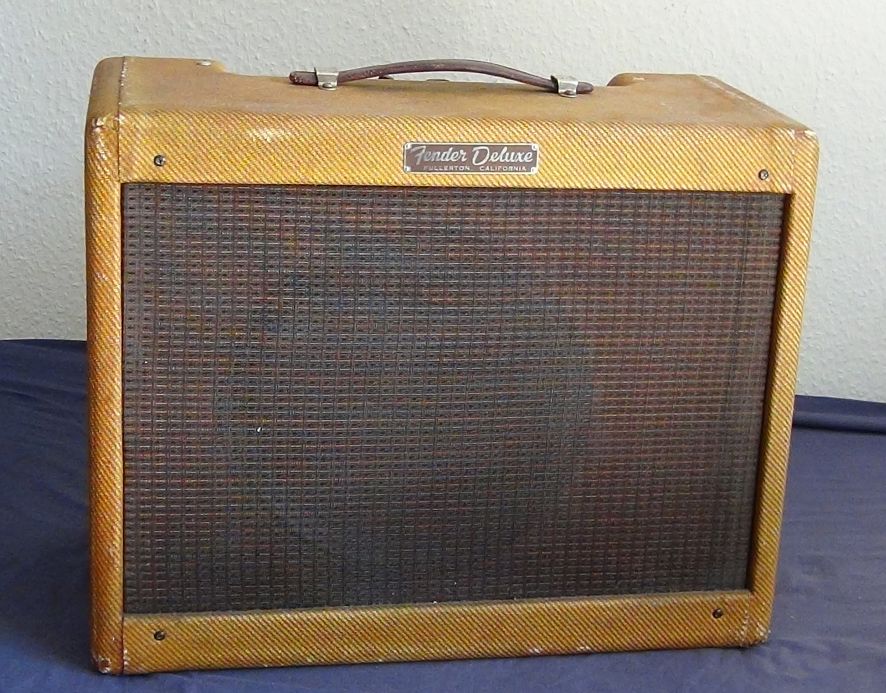 NEW!
Farbe: tweed
Zustand: vg
Baujahr: 1960
Preis: 4350
&copy 2020 by vintage-guitar.de | detailsitem_2761_FENDER-Deluxe-Amp.html |
Impress
|
Terms / Conditions
|
Data Protection