Sorry - already sold
Type:
E-Guitar
VR-Category:
Guitars > Electric solid body
Manufacturer:
FENDER [Wikipedia]
Model:
Stratocaster
slabboard
Year:
1962
Condition:
vg
Price:
Sorry - already SOLD!
Colour:
olympic white refinished
SerialNo:
74xxx
Weight:
3,6 [kg]
Made in:
USA


Details:

This is a great sounding Strat with Brazilian rosewood slabboard (comes with CITES). Most hardware is original and the old refinish shows nice wheather checking.
Neck date is 2-62, tone pots dated 304-6209.
Vol. pot, 5-way switch and output jack have been changed.
It has been refretted longer time ago, also the clay-dots where replaced by pearl-dots, the frets show lots of playing wear. The fretboard has been flated to 9,5".
All 3 pickups are original but the middle pickup has been rewound with orig. wire, the bridge pickup has also been rewound, some new wires.
Comes with original case (orig. 3-way switch inside).




Show pictures in high resolution
Hint
We sell vintage and used guitars and basses from Fender, Gibson, Gretsch, Rickenbacker, Musicman, Hofner, Framus, Ibanez and much more. Amplifier from Fender, Marshall, Mesa Boogie, Vox, Orange, Hiwatt, Ampeg, Musicman uvm.Vintage books and information. Guitar repairs, bass repair, guitar Service
On top of the list
Similar Items

FENDER
Stratocaster
Farbe: sunburst
Zustand: vg
Baujahr: 1966
Preis: 10500

FENDER
Stratocaster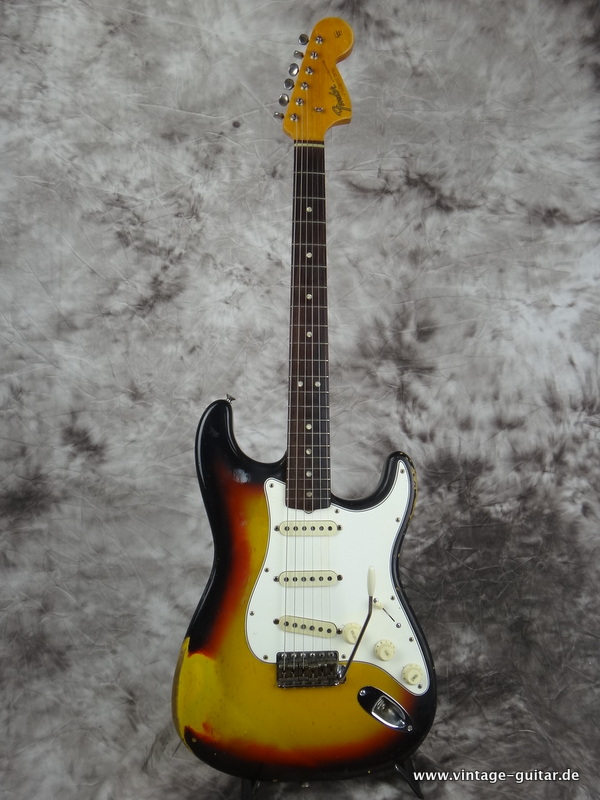 Farbe: sunburst
Zustand: exc
Baujahr: 1966
Preis: 10500
&copy 2019 by vintage-guitar.de | detailsitem_3451_FENDER-Stratocaster.html |
Impress
|
Terms / Conditions
|
Data Protection